How to Care for Your Spider Plant & Treat Fluoride Sensitivity
Spider plants are known to be almost unkillable, but sometimes they may suffer from certain issues. One of these is fluoride sensitivity, which can cause brown stripes on the leaves. If you have recently bought a spider plant from Lowes and noticed this problem, don't worry - it's probably not a fungal disease.
The best course of action is to cut away all the affected foliage and give your plant a very light dose of fertilizer. Water with rain water or distilled water if you're worried about fluoride levels, otherwise regular tap water should be fine. Put your plant in a sunny window or add some artificial lighting to help it recover from any stress it has been through. You should begin seeing new growth soon, and when one of the leaders terminates in a new plant, make sure to get its roots into soil so that it will become a new plant.
It's also important to give your spider plant plenty of light for indoor growth. If the leaves just seem to be dying without signs of disease, then it's likely that it was underwatered at some point and is only showing the effects now.
In conclusion, although spider plants are hard to kill, it's possible for them to suffer from certain issues such as fluoride sensitivity. To ensure that yours stays healthy, make sure to provide adequate light and water and use rainwater or distilled water if you're concerned about fluoride levels.If you notice any signs of disease, cut away the affected foliage and give your plant a light dose of fertilizer. With proper care, your spider plant should be healthy again in no time!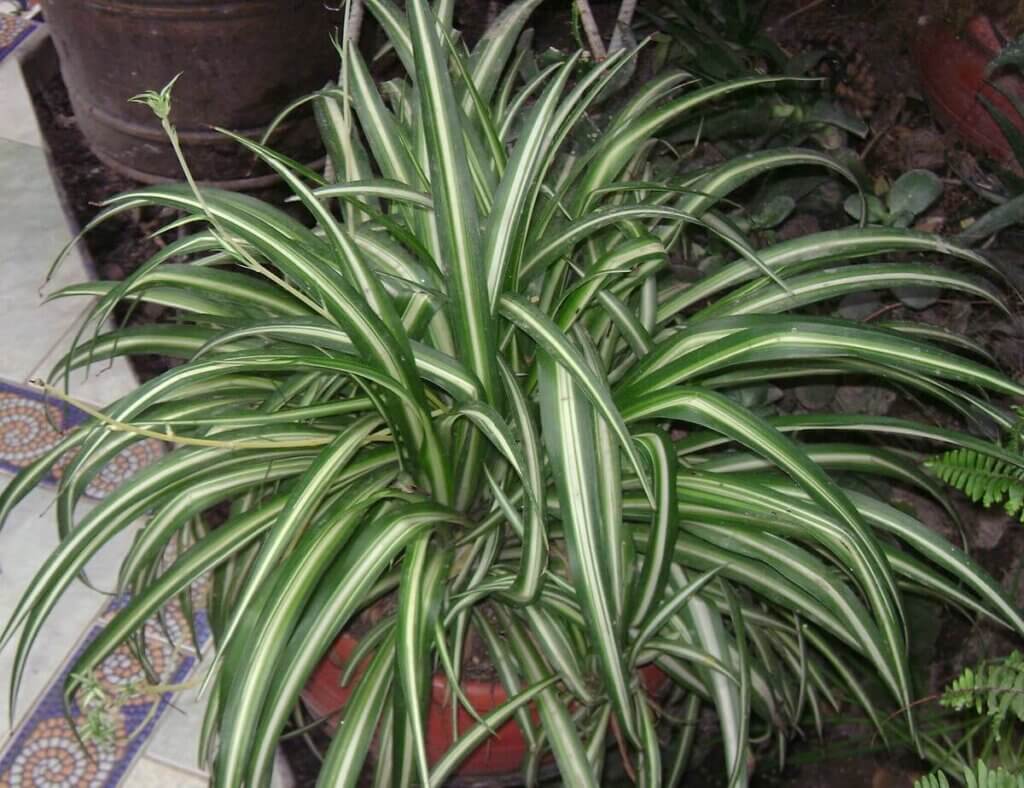 Does this look like a fungal problem?
It is unlikely that this is a fungal problem. The brown stripe down the center of the leaf may be due to under-watering or stress from being on the TLC rack.
What should I do to help my spider plant recover?
Cut away all of the brown foliage and give it a very light dose of fertilizer. Water with rain water or even distilled if you still have concerns about the fluoride. Put your plant(s) into a sunny window or add some lighting this time of year. They need time to recover from the stress that put them on the cheap shelf.
Is it safe to use tap water for my spider plant?
Tap water is generally safe to use for spider plants, however, if you are concerned about fluoride levels, you can opt for rain water or distilled water instead.
Are spider plants hard to kill?
Spider plants are generally considered unkillable, as long as they have adequate light and nutrients.
Are elephant ears invasive?
Yes, elephant ears are considered invasive in some areas. They can spread quickly and take over an area, so it is important to keep them in check.
How often should I water my spider plant?
Spider plants should be watered when the soil is dry to the touch, about once a week. Make sure not to over-water, as this can cause root rot.
What type of fertilizer should I use for my spider plant?
A balanced liquid fertilizer with a ratio of 10-10-10 or 20-20-20 is best for spider plants. You can also use a slow release fertilizer if you prefer.
Is there anything else I should do to help my spider plant recover?
Yes, make sure your plant has adequate light and humidity. Spider plants need bright, indirect light and high humidity levels to thrive. You can mist your plant daily or place it on a pebble tray filled with water.